Register for STARSkate
Welcome!
If you joined us for our STARSkate program last season, welcome back! If this is your first time registering for SMFSC's STARSkate, welcome!
This page will take you through how to register for STARSkate.
First, some details about our Fall/Winter 2017/2018 season:
The City of Mississauga sets ice rental rates for their facilities, which includes Meadowvale 4 Rinks. The City has increased ice rental fees by approximately 2% this year, and this slight increase will be reflected in session fees.
Our Club will be fully implementing the STAR 1 – 5 program introduced by Skate Canada. This program fosters the tenets of Long Term Athlete Development and promotes the Skate For Life principles. Information on how our Club implements the according testing is available on our Star 1 - 5 Assessment page.
For the past 2 years, our Ontario Trillium Foundation Grant has been supporting us financially and the Club has been foregoing our mandatory fundraising to help families alleviate some costs. This year, we will be putting back our mandatory Fundraising of $50.00 per family. Also, families are still responsible for fulfilling their mandatory 5 hours of volunteer services or be charged $250.00 at year end. There will be other Fundraising activities in the club throughout the season, and we encourage all of our STARSkate families to participate in those as much as possible.
We will continue to provide a high-volume discount for early registrations. We will apply a 5% discount on on-ice and off-ice programs to single registrations where session fees exceed $4,000. To qualify, all such registrations must be completed by September 1, 2017, the registration amounts must appear on a single invoice (invoices cannot be combined), and there will be no adjustments made to invoices after the fact to apply the discount.
Karen Hornsby continues to fill the role of Member Services Administrator. She will be available at the rink to answer SMFSC member questions and address any concerns during regular office hours.
Our Fall 2017-2018 Office Hours begin on Wednesday, September 6 and Karen, our Member Services Administrator, will be available in the SMFSC Office inside Rink 3 as follows: Mondays — 6:15 to 7:30 pm; Wednesdays — 6:30 pm to 7:40 pm; Thursdays — 6:15 to 7:15 pm; Saturdays — 10:45 am to 12 noon. As always, if you can't get to the rink and you need assistance outside of regular office hours, please send us an email at info@smfsc.ca.
STARSkate Parent Information Sessions will be offered during the start of the STARSkate sessions. These sessions are essential for new STARSkate families -- Pre-Junior or new to our club -- but they will also include useful information for those who have skated with us before (including, among other things: details on Skate Canada's new approach to testing, how dance partnering payments will work this season, and new group lessons for Junior and Intermediate skaters). Please stay tuned -- we will advise you later this month, as soon as the Parent Info Sessions are available for registration.
Now, how to register:
Online Registration for Fall

| | |
| --- | --- |
| August 14, 2017 Time 7:00 PM | Early Bird registration opens -- skaters must enroll in at least one off-ice class in order to qualify |
| August 16, 2017 Time 7:00 PM | Registration open to ALL |
If you are returning to our club BE SURE to use your original login information to register. All of your skater's Skate Canada Tests that are required for skater qualification for skating levels have been recorded within your previous login information. If you cannot remember your password, please use the Forget Password Page to retrieve your password.
NOTE: Items in your cart will be highlighted in RED if you have not met the minimum registration requirements, which may mean adding additional sessions to your shopping cart. Continue with your registration and click on the "Help" icon and read the requirements carefully as adding the appropriate sessions may allow you to continue with your registration.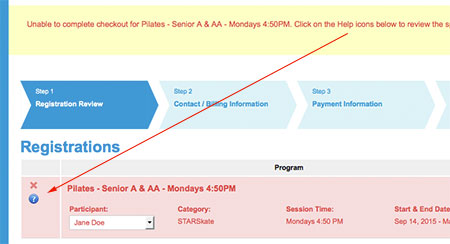 If you are having difficulties with registration, please first check our STARSkate Registration FAQ for additional tips on what may be causing the issue.
If this does not resolve your issue, please use the Contact Us page with details on your original login and the errors you are receiving.
Confirm your planned sessions with your coach
Registrations for STARSkate must include at least TWO on-ice sessions.
Ensure your STARSkater meets the skating requirements for their session
Please note, our system will not permit you to register your skater for sessions of a higher category than your skater's qualifications. Please feel free the check that your skater's tests have been appropriately recorded in our system by checking your account and checking your skater's achievements. More information on how to do this can be found on our STARSkate Registration FAQ.
| Category | Qualifications required at time of registration: |
| --- | --- |
| Pre-Junior | Passed CanSkate Level 5 or higher OR Entered Pre-Junior after 2017-01-01 |
| Junior | Skated Pre-Junior or Junior with SMFSC from the start of last season (September 2016) |
| Intermediate | Passed any combination of STAR 3 Assessments from Free Skate and/or Skills OR one of the following Preliminary tests: Preliminary Skills, Preliminary Free Skate part 1, Preliminary Free Skate part 2 OR Skated Intermediate last season (September 2016) |
| Intermediate High | Passed the following: Star 3 Skills OR Preliminary Skills AND Star 3 Free Skate Programs and Elements OR Preliminary Free Skate part 1 and part 2 OR Skated Intermediate last season (September 2016) |
| Senior & Competitive | Passed 2 of the following Senior Bronze Free Skate Elements, Senior Bronze Free Skate Programs, Senior Bronze Skills, Junior Silver Skills OR Skated Senior last season. |
Consider what your volunteering commitment will be:
Our club's operations and administration relies almost entirely through the efforts of SMFSC volunteers. As in past seasons, we will require all STARSkater families to contribute to the operation of our club through a mandatory volunteering program.
Volunteering: A parent is asked to make at least a 5-hour commitment at some point during the skating season by May 30. There are a wide variety of options, dates and times, including volunteering at test days, Ice Showor other activities throughout the season. For a more detailed listing of possible volunteer opportunities, please click here.
To ensure and track participation, at time of registration, a volunteering buy-out charge will apply to your registration. Once you complete your volunteer activity, it should be reported to the Volunteer Coordinator (registration@smfsc.ca) and the $250 volunteer charge will be waived. Here is how the volunteering buy-out charge would apply depending on how you pay for your registration:
If you pay your registration in full at the beginning of the season by credit card, your credit card will be charged $250 and then reimbursed as soon as you submit your confirmation of having completed your volunteering shift.
If you pay your registration in full at the beginning of the season by cheque, you can provide a cheque post-dated for $250 to May 30, 2018; it will only be cashed if you do not provide confirmation of having completed your volunteering shift.
If you pay your registration by installments, the instalment payment will be displayed for May 30, 2018 for either your credit card or cheque. The credit card payment will be removed or the cheque will be returned once you have reported your commitment to the Volunteer Coordinator.
Confirm if your skater will be a CanSkate PA or Helper (Mondays, Wednesdays, Thursdays or Saturdays):
Program Assistants (PA): Skater must be 12 years or older, and must have passed the Preliminary Freeskate.
Program Helpers: Must be at least 10 years old.
Our highly successful CanSkate program could not run without our dedicated PAs and Helpers. Skaters learn valuable leadership skills and high school students who participate receive credit for community hours.
You can register for your CanSkate sessions online during your registration process. During Registration, select "Canskate PAs" when filtering for your sessions and you will be able to select the appropriate sessions from there.
Mandatory training: Saturday, September 23 at 11 am. Training is both on-ice and off-ice. Once registered as either PA or Helper, you will be contacted with further information.
Decide how you will make your payment
Payments can be made via Visa, Mastercard or offline by cheque.
Credits: If you have credits from previous seasons, credit will automatically appear on your account at the time of registration.
Payment plan: Payments for the regular Fall/Winter programs may be split as follows 40% on registration, 20% on October 15, 2017 and 20% on December 15, 2017, 20% on February 15, 2018. All membership and administrative fees will be charged upon registration. Members choosing to pay by credit card will have their card charged automatically on above-mentioned dates. Post-dated cheques are required from members not paying by credit card. Registrations are not complete until all post-dated cheques have been received; skaters will not be permitted on the ice.
Be sure to review the STARSkate Fees, Policies & Refunds page