STARSkate Frequently Asked Questions
Registration FAQ
Suitability of the Program
The STARSkate Program/Placement
Fees
Withdrawing from the program or transferring to another class
Waitlist
Coaches and lessons
Guest Skating
Parent Roles
Equipment Requirements
---
Registration FAQ:
I'm trying to register but it won't let me add programs to my shopping cart and indicates that my participant does not meet the requirements?
If you have skated with our club before, our site takes into account all of your skater's previous tests, registration and achievement information to allow you to register for the correct sessions. You need to ensure that you are using your registration login from previous years to register your skater. If you cannot remember your password, you can reset your password here.
If you are using the correct login - note that our registration requirements for skating levels have changed. You can review the achievements that your Skater has achieved to see if he or she qualifies for the sessions you are attempting to register for by:
clicking on "My Account" in the top right corner
clicking on "My Participants" in the left hand sub navigational menu
clicking on the name of your skater
clicking on the "Achievements" icon
If your skater has completed certain achievements that make him or her eligible to skate at a certain level and you are prevented from registering, contact us an info@smfsc.ca with the discrepencies and we will have someone verify their achievements and add them to their profile. You can log into your profile in advance and if you notice discrepencies prior to registering - please feel free to contact in advance of registration opening to resolve the issue ahead of time.
Given our updates in skating requirements, if you know that your skater should be skating in a particular level, please feel free to contact us if they haven't been marked as "Completed" for the level previous.
For example, if you know that your skater was in Intermediate AA last season, but has not yet met all the test requirements for this new season, ensure that "Intermediate A" is indicated to be "Completed" in their profile.

I've added items to my cart but in tells me that I'm "Unable to complete Checkout" and certain items are highlighted in red?
You will receive this error and be prevented from checking out because YOU MUST
add the

minimum number of 2 programs

for your specific skating level
if registering for early bird, add

at least 1 off-ice program

for your specific skating level
add the programs that are specific to your skater's skating level
Continue adding items to your cart until you have met the minimum requirements. Clicking on the "Help" icon beside each line will explain to you why you are prevented from checking out. You may be prevented from checking out for several reason.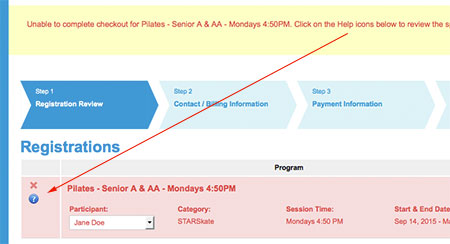 I've never registered with SMFSC before. How do I create an account?
Click on "Login" in the top right corner of the webpage. The right hand side of the page will say "First Time Registering with SMFSC?". Fill in the form and follow the instructions for registration.
I registered with SMFSC years ago before 2012, before there was online registration available. How do I register now?
You will need to create a new account. If you have never completed online registration previously, you will be treated as a new member.
Why do I need to complete my registration within a limited time period?
Registration spots for all of our programs are limited. To ensure that your spot is saved during the registration process and that all users have an equal opportunity to register for programs, you must confirm your registration with payment by either credit card or cheque.
I see a list of sessions under the "Registration" menu, but why do I not see a "Register" button beside each session?
Registration opens at different times for different programs and sessions. If there is no "Register" button beside the session you with to register for, registration may not yet be available for the session
I have registered, but I also noticed additional fees added to my invoice. What are these fees?
There is an annual $44 Skate Canada Membership fee, which is valid for the whole season from September 1 to August 31. Additionally, there is an annual club administration fee that is dependent upon when you register for a program throughout the year. For more information regarding these fees, please read our STARSkate Schedule, Fees & Refund Policies page
I am having trouble registering. Who can I contact for help?
Thank you again for your patience as we transition to this new system. Any inquiries regarding registration can be sent via email to info@smfsc.ca and one of our board members will respond within 72 hours
For more information regarding registration, you can also review our STARSkate Registration Help Page
---
Suitability of the Program:
My child is interested in hockey or ringette. Is this program geared only to figure skaters?
Yes. STARSkate is a program exclusively for figure skating.
Does my child have to have previous skating experience before signing up for the program?
Yes. STARSkaters must have passed either Level 5 or 6 of CanSkate. Skaters who have completed a similar program – for instance, the City of Mississauga's Parks & Recreation skating program – can arrange a complimentary on-ice assessment (the Skate Canada membership fee must be paid prior to stepping on the ice) to determine their suitability. Please contact us at info@smfsc.ca to arrange a time.
My children have very different levels of skating experience. Can they all register for the same session?
In order to maintain a balance of skaters throughout our sessions, our STARskate sessions are divided according to the skill level of the skaters. To skate on the same session, all skaters must be at the same level. For more information on the requirements for each session, please see the Register for STARSkate page here. What is the coach to Student Ratio?
STARSkaters work one-on-one with a coach, or in small group lessons. In Pre-Junior, the ratio is approximately 5 skaters to 1 coach during group lessons.
Is there a power skating program at your club?
Yes. SMFSC offers a series of CanPower clinics throughout the season. Please see the CanPower section of our website for more details.
---
The STARSkate Program/Placement:
My child has previous experience in another program. How will he/she be placed in the STARSkate program?
Our STARSkaters are grouped according to their skill level. For more information on the requirements for each session, please see the STARSkate Registration page.
Can my Pre-Junior skater register for just one session a week?
Pre-Junior skaters are required to register for and skate on two on-ice sessions per week, and these skaters have priority once registration is available online. For any Pre-Junior skater wishing to register for only one session per week, registration opens one day after the current season's withdrawal date. Registration will be subject to space availability, and a skater must choose (and confirm their arrangements with) their private coach prior to registration. Withdrawals after registration will only be permitted for medical reasons (see our Fees, Policies & Refund Information). Please note, a skater must skate on at least two sessions per week in order to try Skate Canada tests or participate in Ice Show or any other club event.
If I am already a member at another Skate Canada club, can I register with Streetsville Meadowvale as well? Can my primary coach come on the ice to give lessons at SMFSC?
We accept registrations from STARSkaters who are also registered at other Skate Canada clubs. In order to register with our Club, skaters must register for and skate on at least two SMFSC sessions per week, and all on-ice instruction on those sessions must be done by SMFSC coaches only.
Skaters must also designate one of their registered clubs as their home club. Skaters can only participate in Skate Canada tests at one CLUB. If skaters choose to test at SMFSC (not their home club) they must skate a minimum of 2 ice sessions per week and obtain an Approval to Test Out of Club from Skate Ontario Office. SMFSC then becomes their only testing club for that year.
---
Fees:
I paid a Skate Canada membership fee when my child joined the program. Will I have to pay it again?
The Skate Canada fee is an annual membership and is only valid for one season starting from September 1 to August 31 of the following year, regardless of when you join the program. The fee is required by Skate Canada and is not retained by the club. This fee is non-refundable.
What is included in session fees?
For the vast majority of our STARSkate on-ice sessions, our posted fees cover the cost of ice as determined by the City of Mississauga. These fees generally increase annually, and our Club has no input into the fees levied by the City.
There are a few exceptions, where session fees include both ice-rental AND coaching fees: Pre-Junior (groups), Stroking.
Off-ice sessions include facility rental AND instructor fees.
---
Withdrawing from the program or transferring to another class:
What is the refund deadline for the Fall/Winter STARSkate session?
The final refund deadline for STARSkate is the third week after the start of the season. For more detailed information, please review our STARSkate Fees, Policies and Refund Information.
If I join the program after the withdrawal deadline, do I have any option to withdraw?
Skaters who join the Fall/Winter STARSkate session after TBA will be able to withdraw until the end of their 2nd scheduled class (regardless of attendance).
How do I withdraw from a session?
Refunds are based on the date of receipt of a written notice, either provided during a STARSkate session or emailed to info@smfsc.ca. Provide the skater's name, skating day, parent's name, address, and reason for withdrawal.
How do I transfer to another STARSkate class?
There is no automated system to do that at this time. Please email info@smfsc.ca and request a class day change. Changes will be made subject to availability of space, and subject to a service charge of $25.
Can I move my child to a different session for a couple of weeks due to a temporary conflict and then return to the original class day?
No. If there is space available, you can move your skater on a permanent basis, but you cannot move back and forth between sessions.
If we want to withdraw after the withdrawal deadline, can we get a credit for future lessons?
SMFSC clearly explains their refund policy and offers sufficient time to try the program before the withdrawal deadline occurs. There are no credit notes provided after the deadline, except in the case of medical withdrawals. For further details, refer to "Refund Policy".
---
Wait List
If there are no spaces left in a class, do I have to pay to have my child's name put on a waitlist?
No
How do I put my child's name on the waitlist?
If a class if full, instead of a "Register" button beside the session, there will be a "Waitlist" button. When you should click that button, the site will allow you to add a child from your profile to the waitlist. Once a position has become available, you will be notified by email that a position is available. You can then log into the website and either register your child or remove them from the waitlist to allow the next person on the list to take their spot. Once the position is offered, there will be a limited time to complete the registration.
Can I find out where my child's name is on the waitlist?
If you log into the website and click on "My Account" on the top right hand corner, you can then select "My Waitlist" from the submenu on the left hand side. This list will display each of the programs and children who are on the waitlist for each individual program along with their position on the list.
Will the waitlist be carried forward to the next session?
No. Your skater's name will be kept on the waiting list, without charge, until partway through the session. The lists will then be deleted. Names from the waitlist will not be carried forward to a future session.
---
Coaches and Lessons:
How do I know how many private lessons my child needs?
You should have a discussion with your child's coach on a regular basis to determine both parent and coach's expectations, including the numbers of sessions per week and the number of lessons.
What do I do if either my child or I want to change coaches?
Our coaches are all professionals and respect SMFSC's Coaches' Code of Conduct, and they will behave in a professional manner whether your child remains with them or changes to another coach.
The first coach hired by the skater's parents for private lessons is known as the base or primary coach. In accordance with Skate Canada guidelines, any other coach wishing to teach the skater in any discipline must first get approval from the Primary Coach. Please be aware it is against Skate Canada guidelines for any coach to "solicit" a skater away from another coach.
If after meeting and discussion with their Primary Coach, a skater and parent determine that it is in the skater's best interest and there are valid and beneficial reasons to make a coaching change, then etiquette dictates that the skater's parents ask their selected new coach if they would be willing and have time to teach the skater, if so, then the parents inform the former coach of the change and pay them in full before taking any lessons from the new coach. Skate Canada and SMFSC require that the former primary coach gracefully relinquish any skater that wishes to change coaches.
Keep in mind that a coach develops a learning plan and allocates time to each skater for a full season. Unless there are extraordinary circumstances, it is considered poor form to change coaches mid-season. If you would like to make a change, inform your coach of this decision, and make the change at a natural break in the season.
I'm not happy with my child's coach. Who can I talk to about this?
It's very important to keep good lines of communication between parent, skater and coach. First and foremost, you should take any concerns to your coach. Each of our coaches are professionals who adhere to our SMFSC Coaches' Code of Conduct, and they will behave in a professional manner in addressing your specific concerns.
---
Guest Skating
How can I tell if a session is available for guest skating?
Guest skating will only be permitted on sessions where registration has not reached capacity. To check whether there is availability, please log on to the registration portion of www.smfsc.ca. It will show the number of spots remaining, if any. When a session is at capacity, you cannot guest skate, no matter how many of those registered skaters are actually in attendance on a given day.
If a session is showing as full, can someone guest skate if there are skaters absent?
No. The number of guest skaters will be limited to the number of spaces available for registration, irrespective of skater absences.
Where do I purchase guest skating tickets?
Guest skating tickets must be purchased in advance by contacting the club at info@smfsc.ca, by checking with your coach, or by asking a Board Member in the Music Room. Guest skating tickets are available online.
Can I guest skate on Stroking-only session?
Guest skating tickets include freeskate sessions only. Guest skaters are not entitled to participate in any of our stroking-only sessions.
If I'm guest skating a session, can I stay on for the stroking session?
A guest skating ticket entitles the bearer to skate on the Freeskate portion of the Sessions, which DOES NOT INCLUDE STROKING.
---
Parent Roles:
Can I drop my child off for classes?
Meadowvale 4 Rinks is a public facility and there is a lot of traffic in the lobby especially during hockey season. We strongly suggest that parents of Pre-Junior, Junior and Intermediate skaters bring their skaters into Rink 3 and pick them up from there as well. If you are going to be late to pick up your skater, you can suggest that they wait in their dressing room or near the Music Room in Rink 3.
Do I need to stay at the rink while my child skates?
No. Skaters are supervised by their coaches while they are on the ice. After their session ends, they should be picked up promptly (or they can wait near the Music Rom in Rink 3).
Can I stand on the ice with my child?
No. For insurance purposes, only Skate Canada members are allowed on the ice.
Can I offer my child suggestions from the viewing area or from ice level?
For their safety and the safety of others on the ice, we ask all our skaters to be 100% focused on what they are doing on the ice. When parents offer coaching or comments from the viewing area, it takes their attention away from the ice and creates a dangerous situation.
---
Missed Classes:
My skater has to miss one of her sessions. Can she attend another class to make up for the missed class?
Members registered for a specific session/day cannot attend a class on another day unless they make a permanent move to that class (only possible if there are spaces available).
If we have an extended vacation planned, can I register my child for only part of the lessons or get a refund for the lessons missed?
Participants who go away on extended vacations cannot make up the missed classes on another class day or receive a refund for missed classes. Parents who opt to register for only the latter part of a session must wait until that date to register and cannot request that a space be held for their child.
Do we get a credit for sessions cancelled due to weather?
SMFSC is not able to offer makeup classes or refunds due to classes cancelled because of severe weather or other circumstances beyond SMFSC'S control
---
Equipment Requirements:
What kind of skates should STARSkaters use?
At this level, STARSkaters will be doing jumps, spins and turns, and as such, they require properly fitted figure skates. Your coach can provide recommendations.
Are the molded skates a good option?
No. Because they cannot be "broken in" and are inflexible, they allow the skater less control. Your skater will progress at a slower rate.
---